Empowering Tomorrow's Innovators
Understanding the Landscape of Youth Entrepreneurship
Do you remember setting up your first lemonade stand? Or the time you and your friend made crafts to sell to friends and family? Maybe you even had the brilliant idea to create hand drawn signs to eagerly offer services like dog walking, shoveling snow, and mowing the lawns in your neighborhood.
These childhood ventures are more than just fond memories–they are the seeds of entrepreneurship. They demonstrate the raw potential for innovation that we at Youth Ottawa are passionate about cultivating in today's youth.

Taking the entrepreneurial leap allows people to merge  passions and interests with  work. According to a 2023 RBC Small Business Poll, a growing number of Canadians are turning to entrepreneurship to pursue this career lifestyle. This trend includes young entrepreneurs as well, with 8 in 10 young Canadians aspiring to entrepreneurship to shape the career they desire, as revealed by a 2023 IPSOS poll on Canadian Entrepreneurship. A goal also on the rise among Gen Z, driven by changing attitudes towards the post-pandemic work culture and technological innovation. Yet, despite their enthusiasm and innovative ideas, young Canadians make up just 1.7% of Canada's entrepreneurial landscape. This disparity points to a pressing issue: a vast pool of potential is being overlooked. 
The Challenges of Youth Entrepreneurship
The economic impact of entrepreneurs is undeniable–small businesses employ a substantial portion of the workforce. According to Statistic Canada, businesses with 1-99 employees make up 98% of all employer businesses in Canada, and employ 63% of the workforce. Yet, it's not just about numbers; it's about the fresh energy and perspectives that young entrepreneurs bring to the table. Their unique outlook and innovative approaches will inherit and transform the small business sector and job creation. 

However, the path for these aspiring young business owners is filled with challenges. Young people today face balancing education and work in a world marked by rising inflation rates and stagnant wages. They carry more debt and have limited financial support, which hinders their ability to pursue entrepreneurial dreams.
According to an RBC Economic report (2018), 80% of young business owners relied on donations and gifts to sustain their businesses. 
While it is true that Gen Z is ready to harness technological revolutions pioneered by previous generations to shape our economic future, being tech-savvy is just one part of the equation. Growing businesses today have many benefits thanks to tech advancements in AI, social media, data analytics, and e-commerce. Nevertheless, to truly empower entrepreneurship, youth need support in utilizing these new technologies for sustainable business, particularly in social enterprises. The United Nations' recent report on Youth Social Entrepreneurship emphasizes the importance of aiding young people in identifying, adopting, and commercializing technologies for career growth. Taking full advantage of higher levels of youth engagement in the digital space requires that young people have support in adapting new technologies to business development.
Youth Belong in Entrepreneurial Spaces
We believe in the transformative power of young entrepreneurs to create a lasting impact. We see it in the success stories from our community, where young individuals are leading the charge and pushing the boundaries of what's possible in business. Young entrepreneurs like Mallorie Bordie & Lauren Lake, founders of Bridgit, a successfully innovative Canadian construction company, and Kerin John, founder of Black Owned Toronto, are a testament to what youth are capable of. In our city of Ottawa, youth enterprises like Hot Shoe Productions, a youth-led media production company and the Novas Group, a venture creation firm, are pushing the boundaries of entrepreneurship and are here to succeed. It is our responsibility as a community to support youth to empower the future.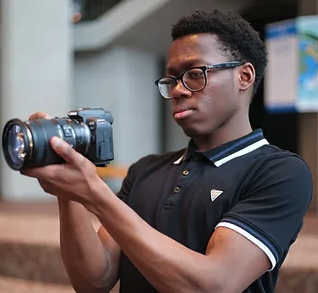 Join us in Supporting Young Innovators
Youth Entrepreneurs need support to build the future. We understand this need deeply and are committed to providing young entrepreneurs with the help they need to overcome barriers, through mentorship, resources, and a community that believes in their potential.
Our mission is to transform the 1.7% into a figure that truly reflects the capabilities and aspirations of Canada's youth. 
A large part of encouraging innovation is to create an environment that fosters experiential learning to support current educational practices. At Youth Ottawa our programs focus on the importance of marrying technological know-how with sustainable business practices. Our aim is to guide young entrepreneurs towards creating ventures that are not only profitable but also beneficial to society. 
With the giving season around the corner, we're highlighting the importance of investing in the entrepreneurial spirit of our youth. By subscribing to our updates, you'll get to follow the story of how we helped kick start a youth-led social enterprise and see the impact of what youth entrepreneurship can bring to our community. 

Together, let's empower young entrepreneurs to turn lemons into lemonade!
There's more to this story! Subscribe below to stay updated.